CAA News - November
Watch the latest news updates with CAA Communications Chairman David Morgan. Subscribe today to be notified when we post new videos!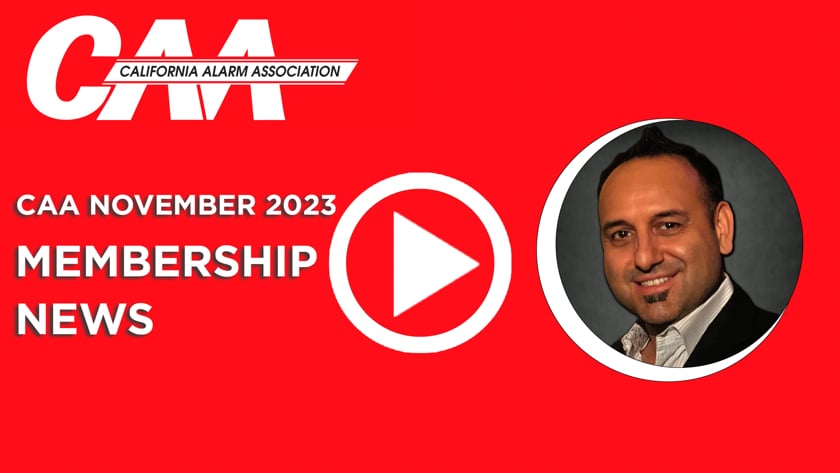 California experienced what appears to be record voter turnout, with high early votes from Democrats and high day-of voting by Republicans.  In past elections, late-mailed ballots and provisional ballots trended to the Democrats.  Through the morning of November 6 late ballots have trended towards Republicans.  However, there are 4.5 million ballots remaining to be counted…
Upcoming Training Events
The National Training Program is pleased to host the upcoming webinars for CAA Members.  
TBD

Check Back for Webinar Course Updates!
About the CAA
The California Alarm Association develops and manages programs to benefit members and to promote the growth of professionalism in the electronic security industry throughout the state of California. Membership dues provide the foundation for funding these programs, but we rely on the financial support of individuals and companies to expand existing programs and launch new initiatives. These non-dues revenues are critical for the protection of the industry in which we all make our livelihood, and to preserve our ability to enhance public safety in our communities. Our mission:
Serve our members and associates by being the industry advocate and liaison with public safety agencies, government bureaus, and licensing, standards and regulation bodies.
Serve the people of California by being a reliable and trusted resource for safety and security information and services.
Become An Association Member Today
There's a place for you at the California Alarm Association. Sign up online today to join one of the fastest growing and progressive industry associations.